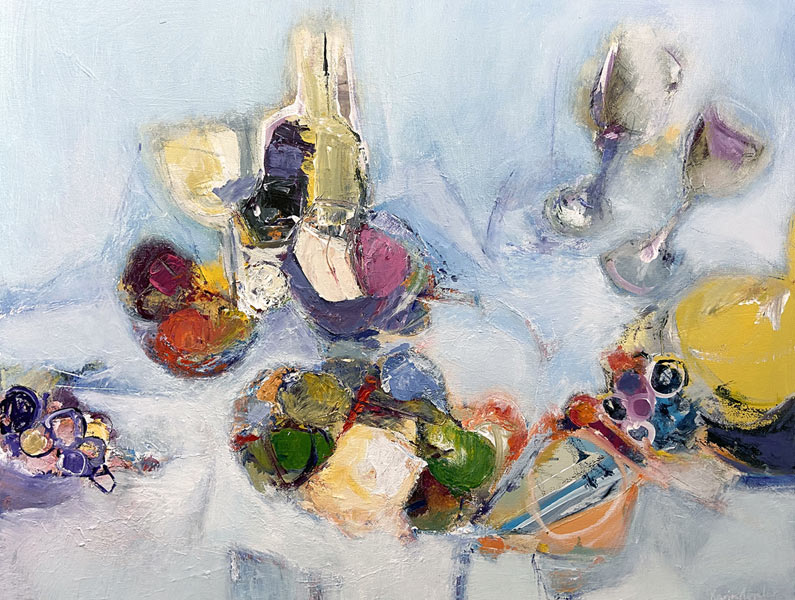 2020 Holiday Show .
November 20
- January 17, 2021
View the exhibit in person during our new gallery hours: 11am to 5pm, Friday-Sunday.
Works by Iben G. Vestergaard, Karin Aggeler, Rick Doehring, Penny Arntz, Patrick McGinnis, Mary Neville, Pamela Larsson Toscher, Marlene Struss, Maria Miller, Tom Peck, Patricia Post, Sophie MJ Cooper, Mary Dee Thompson, Patrick Hall, Karen Zazon, Laurie MacMillan, Scott A. Trimble, Pamela Grau, Dahlia Riley, Madeline Garrett, Daniel Linz, Stuart Ochiltree and Jo Merit.
10 West is a contemporary fine art gallery located in the heart of downtown Santa Barbara just 1/2 block from the Santa Barbara Museum of Art. The gallery specializes in Santa Barbara and regional artists. The artwork tends toward non-traditional genres with various degrees of abstraction or surrealism, joined by depictions of peaceful koi ponds, impressionist landscapes and unique figurative work. You'll find oil and acrylic paintings, ceramic vessels and sculpture, bronze and stone sculpture, digital photographic collage and contemporary pottery from Mata Ortiz, Mexico.
An artist-owned cooperative, 10 West Gallery is directed by founder, Jan Ziegler. Before Covid, the gallery was open six days a week and had a new exhibition of 10 artists every month, with receptions during the popular Santa Barbara 1st Thursday Art Walks. Since Covid, the gallery has been open three days a week and each exhibit stays up for two months.
Please join our email list to receive show announcements.